Greetings Ohio USMS Members. The Long Course Meters Individual records have finally been updated for the Ohio LMSC. As far as I know, these records are very accurate. But as you can see, I am still missing some information. Please feel free to contact me regarding any records that I may have missed, or if you have any pieces of the "missing" data, such as the year in which a record was achieved. Please remember that in order to be considered for an Ohio record, you must have been swimming for a team registered with the Ohio LMSC at the time the record was set. Email any changes to OHTopTen@usms.org.
Thank you for being patient with me doing this process! - Amanda, OH Top Ten Chair
It's not too late to register for the 2014 season:
To learn more about giving to the USMS Endowment Fund, click on the image below.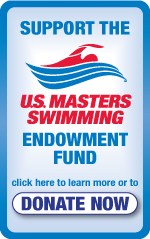 Feeling like you need to compete? Click here and see what events are coming to your area!
Already competed and need to get your official results? Check our results page to see times and results from Ohio meets.